Ultimate Biotics
Digestive Health & Immune Support
Your digestive tract is home to trillions of bacteria that help with digestion and other important functions throughout your body. Ultimate Biotics combines a probiotic blend of 4.4 Billion CFUs with a patented prebiotic formula designed to help you support healthy gut bacteria.
Take advantage of our multi-bottle packages and save up to $120 plus FREE Shipping to anywhere in the United States.


Description
With Ultimate Biotics you get 4.4 Billion CFUs of specially selected strains & a patented prebiotic formula in every dose. The strain selection is important to getting a wide range of beneficial bacteria and the prebiotic helps to nourish your probiotics for maximum effectiveness.
4.4 Billion CFUs of Specially Selected Strains
Most probiotics are non-spore forming strains. These have been widely studied for their health benefits and are commonly found in most probiotic supplements. Such as Bifidobacterium Lactis and Lactobacillus Acidophilus, both included in Ultimate Biotics to help support digestion and the immune system.
For a probiotic supplement to be as effective as possible, it's important that your probiotic contains a mix of spore forming strains such as Bacillus subtilis and Bacillus coagulans. Ultimate Biotics contains a form of Bacillus subtilis called DE111TM.
Together, these strains also supports the normal breakdown of complex carbohydrates and fats, which is important for proper digestion and nutrient absorption.
Special Capsules For Protection
DRcaps® are designed to withstand stomach acids so that the probiotics don't get released until after they've passed the stomach acids.
Here's why it's important...the digestive benefits you'd expect from a probiotic comes from improving the bacteria living throughout your gastrointestinal tract. To get there, your probiotics will have to pass through your stomach. And that means facing powerful acids that will kill any unprotected strains.
Using DRcaps® helps protect the probiotics from getting destroyed by your stomach acids. So they can get to the deep parts of your G.I. tract where they're most useful to you.
A Boost For Your Beneficial Bacteria
And...as with any living organism...probiotics need proper nourishment to be healthy and effective. It's call prebiotics - food for your probiotics.
Taking a probiotic without a prebiotic is like trying to grow a plant without water or fertilizer. The plant will struggle to get the nutrients to stay healthy. And so will the bacteria in your gut.
That's why our product is called Ultimate Biotics. It's a special blend of essential probiotic strains...4.4 Billion CFUs...and...a powerful patented prebiotic formula that has been backed by scientific studies to make beneficial bacteria many times stronger.
*PreforPro® and DE111TM are trademarks of Deerland Enzymes, Inc.
*DRcaps® is a registered trademark of Capsugel®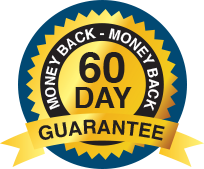 100% Satisfaction Guarantee
If you are not satisfied for any reason, send back the unused portion within 60 days and we'll refund 100% of your purchase price (less S&H). Call customer support at 1-877-801-0183 for return instructions. That phone number is also printed on every bottle for your convenience.

60 capsules
30-day supply
(actual size)
How To Use
Take 2 capsules daily,
preferably with meal
Free Shipping
Orders over $50, Within the USA

Questions?
Prefer to order by phone?
Call us:
877-801-0183
Mon - Fri 8AM-5PM EST